Concentric Zone Model Theory and Its Limitations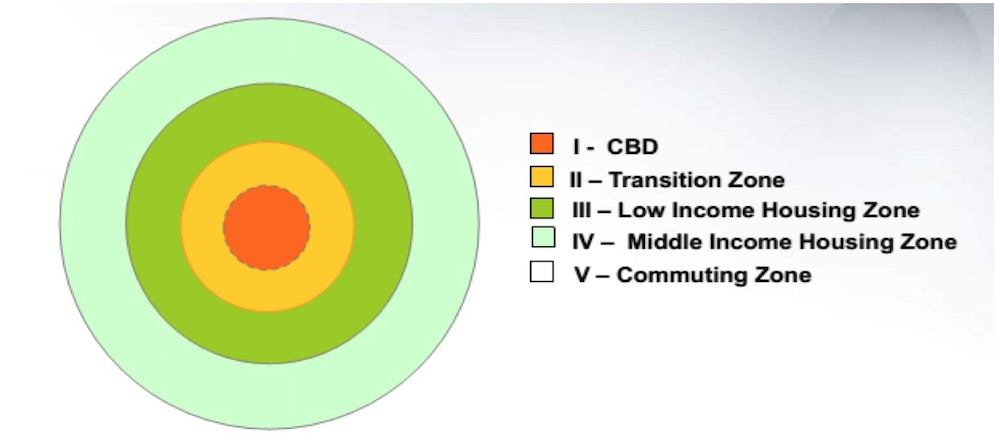 Concentric Zone Model Theory was created by sociologist EW Burgess in 1925
Based on a study of land use patterns and social group in Chicago
City grows outward beginning with the CBD
Similar & functionally related activities will locate at the same distance from CBD
Formation of zones is based on accessibility in distance to the city center
City is divided in to 5 concentric zones:
Zone I    Central Business District:
Hotels, Offices, Businesses, Other Commercial activities)
Zone II    Zone of Transition:
Gray zone, Tendency to conversion of land uses
Zone III Lower Income working People:
Homes/slums
Zone IV High Income Residences:
White Collar/middle class families
Zone V Commuter Zone:
People who work in the center choose to live in the suburbs
Zones in the Concentric Zone Model Theory
Central Business District
Social and civic life of city is found in this zone.
It contains shopping areas, hotels, office buildings, banks, theatres, wholesale centers, and other businesses.
These are the uses which seek central location for their success and utility.
Public uses should be equidistant from the surrounding areas
It also contains, in short, the economic, political and cultural life of the city.
City parks, marriage halls, higher order education facilities, hospitals are also located in the center.
Uses along the boundary of this zone are the wholesale markets, ware-houses, industry which don't require much area.
Zone of Transition
Characterized by mixed pattern of industrial and residential land use
This zone is identified by both area wise and population wise. Area wise it is in Limbo (means it is in uncertain condition or transition phase or keeps on changing).  
Immediately adjacent to the CBD, it is an area that may be slated for expansion if the business is good. In this zone land and properties are held for speculation purposes.
It inherits instability and attracts population which is similarly in transition. Further it can also be identified by the variety and changing character of land uses.
The residential area also starts from this zone. Other identifying features of this zone are the old structures, apartments (multi-storey buildings), residential slums and shabby homes.
Lower Income Working People's Zone
Lower status residential area
The "workingmen squarters"
Solid blue-collar, located close to factories of zones 1 and 2
More stable than the transition zone around the CBD
Often characterized by ethnic neighborhoods
Spreading outward because of pressure from transition zone and because blue-collar workers demanded better housing
High Income Residences
It contains large residential area of city. It is also called high class residential zone in the Concentric Zone Model Theory
Well decorated, undivided and costly constructed high class residences are found in this zone.
Further detached houses and apartment buildings with high quality infrastructure and community facilities are included in this zone.
In most cases, this zone may be the most accessible area from all parts of the city
Commuters' Zone
Burgess dealt fully with this fifth zone. In this zone, all the suburban communities found along the arteries of transportation.
As growth occurs, each inner zone of the generalized diagram tends to invade the next outer zone.
Sociologist says it is a process of invasion-succession. And the rate of progression of this tendency depends on economic expansion in the city and rate of population growth.
Limitations of The Concentric Zone Model
Too simple and Static
Limited in historical and cultural applications.
It is a product of its time. (1950s)
The model was developed for American cities and has limited applicability elsewhere.
Ignorance to the process of redevelopment