Angle Measuring Equipment in Surveying
The theodolite is the basic instrument for measuring horizontal and vertical angles. It consists essentially of a sighting tube in form of a telescope, an horizontal and vertical scales, which are so set that horizontal and vertical angles of the object sighted in the telescope can be read from the scale (see fig. 5 and 6)
Theodolite and Transits:
There are two general types of theodolites
Direction theodolites (also called simple theodolites and;
Repeating theodolite (also called American transits)
In the direction theodolite, the graduated horizontal circle remains fixed while the telescope is pointed at several objects in turn and the direction to each is read on the horizontal scale (See Fig. 8). The former theodolite is an instrument for measuring both vertical and horizontal angles, as used in triangulation networks. It is a key tool in surveying and engineering work, particularly on inaccessible ground, but has been adapted to other specialized purposes in fields like meteorology and rocket launch technology.
In repeating theodolite or transit, the same angles are measured a number of times on the horizontal scale, which is rotated as much as there are of each measurement. "A transit" (in fig. 9) refers to as specialized type of theodolite that was developed in the early 19th century. It featured a telescope (See fig 23) that could "flop over" ("transit the scope) to allow easy back – sighting and doubling of angles for error reduction. Some transit instruments were capable of reading angles directly to thirty seconds. In the middle of the 20th century, "transit" came to refer to a simple form of theodolite with less precision, lacking features such as scale magnification and mechanical meters. The importance of transits still finds use as a light weight tool on construction sites. Some transits don't measure vertical angles. Thus, in repeating theodolites, the successive value of each measurement is accumulated on the horizontal circle, the final reading representing the total area of all the measurements taken. The desired value is then obtained by dividing the final reading by the number of repetitions.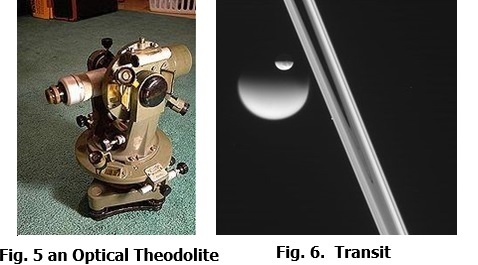 Inclinometer:
Historically, early inclinometers include well's inclinometer in Fig 7, the essential parts of which are the flat side, or base, on which it stands, and a hollow disk just half – filled with some heavy liquid. The earliest electronic inclinometers used a weight, an extension, and potentiometer. Early the 1900's (Circa 1917) precision curved glass tubes filled with a damping liquid and steel ball were introduced to provide accurate visual angle indication. Common sensor technologies for electronic tilt sensors and inclinometers are:
accelerometer
Liquid capacitive
Electrolytic
Gas bubble in liquid and,
Pendulum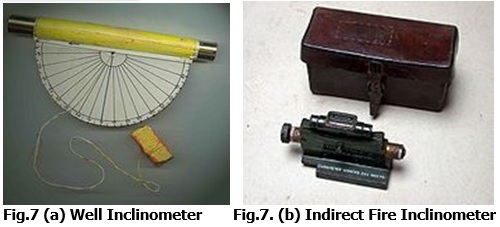 Fig.7 (a) Well Inclinometer Fig.7. (b) Indirect Fire Inclinometer
MEMS (MICRO – ELECTRO – Mechanical System) technology is becoming the new standard inclino-meter due to their tiny size and low cost.
An inclinometer or clinometers- is an instrument for measuring angles of slope (or tilt), elevation or inclination of an object with respect to gravity. It is also known as tilt meter, tilt indicator, slope alert, slope gauge, gradient meter, gradio meter, level gauge, level meter, declinometer, and pitch & roll indicator. Clinometers measure both clines (positive slope as seen by an observer looking upward) and declines (negative slopes, as seen by an observer looking downward)
Vertical circle attachments:
Except in astronomical observations, vertical angles seldom need to be measured with the accuracy required for horizontal angles. In all instruments, the vertical circle is attached the telescope. In American transits, it is read with a vernier attached to a standard and thus depends on the accuracy of the leveling of the instrument. In modern Nigerian instruments, the vertical circle is read with an optical device governed by a pendulum and therefore is independent of any inaccuracies in the hand leveling of the instrument. The accuracy of the setting of the reading device in both instruments can be tested by reading the same vertical angle with the telescope both direct and reversed.
Plane – table alidades:
Modern Plane – table alidades consist of a telescopic sight of about 13-16 power equipped with stadia hairs and mounted on a metal graduated straight edge called a blade, with which survey data can be plotted on the supporting drawing board. The telescope on horizontal bearing does not reverse, and it measures angles of elevation and depression up to as much as 200-300, as indicated on a vertical circle. A prismatic eye piece makes it possible to observe when looking down into the telescope to avoid the interference of the plane table. Also mounted on the blade are a circular spirit level for leveling the plane table and a trough compass that operates when the alidade is aimed along the magnetic meridian.
Plane-table surveying has been eclipsed by photogrammetry. It is still used, however, for mapping small areas, for filling in where the lack of detail prevents the proper orientation of aerial photography, or where detail is concealed on the photograph. It is sometime used for finding the position and elevation of photo – control points.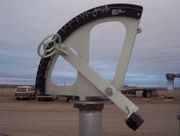 Fig 8: A Simple alidade used with Ceiling Projector