To Calibrate a Pressure Gauge Using a Dead Weight Pressure Gauge Calibrator
Apparatus
Dead weight pressure gauge calibrator having the following main components,
Cylinder
Weights
Leveling screws
Spirit level
Cylinder inlet
A gauge to be calibrated
Hydraulic bench
Concepts:
Calibration of guage:
To compare the values of an instrument with that of the standard ones is known as calibration of that instrument.
Pressure gauges:
The instruments with the help of which we measure the pressure are called as the pressure gauges.

Also Read: Calibration of Rectangular Notch | Other Fluid Mechanics Experiments
Absolute Pressure:
The pressure measured with reference to absolute zero is called as absolute pressure.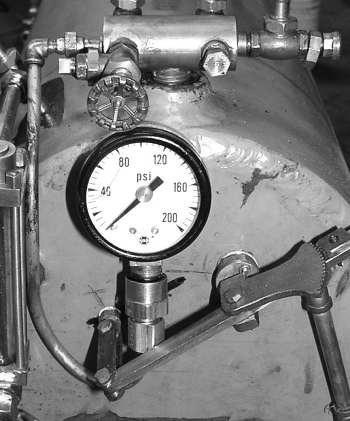 Gauge pressure:
The pressure measured with the atmospheric pressure is called as gauge pressure.
Vacuum pressure:
Negative gauge pressure is known as vacuum pressure.
Atmospheric pressure:
The pressure exerted by the atmosphere above us is known as the atmospheric pressure. Its standard values are given below.
1 atm =
14.7 psi
101300 Pa
0.1 Mpa
76 cm of Hg
760 mm of Hg
1.01 bar
34' of water
Procedure:
I placed the pressure gauge and calibrate assembly on bench top.

I connected the inlet tube to the gauge manifold.

A length of tube was connected to the calibrator drain and laid into the channel to prevent spillage of water on the bench top.

The calibrator was leveled by the adjusting feel whilst observing the spirit level.

I removed the piston and accurately determined its mass.

I closed the control valve of the bench and open both cocks then I operated the pump starter and also open the control valve and admitted the water to the cylinder.

After removal of air bubbles from the tube, I closed the cock along with flow control valve and switched of the pump.

I noted the gauge readings corresponding to the piston mass of .5 kg.

Then I added .5 kg mass each time and noted the corresponding gauge readings.

Then I find out the Absolute gauge error by the following formula.

Absolute gauge error = Pressure in cylinder – Gauge reading

Then I find out the %age gauge error by the following formula.

%Age gauge error = Absolute gauge error *100 / Pressure in cylinder

Then I plotted a graph between %age gauge error and pressure in cylinder.
S.No

Piston mass
Kg

Piston area
m2

Pressure in cylinder
KN/m2
=F/A

Gauge readings
KN/m2

Absolute gauge error
KN/m2

%Age gauge error

1

0.5

244.8*10-6

2042.48

10

2032.48

99.51

2

1

244.8*10-6

4084.96

30

4054.96

99.26

3

1.5

244.8*10-6

6127.45

50

6077.45

99.18

4

2

244.8*10-6

8169.93

69

8100.93

99.15

5

2.5

244.8*10-6

10212.41

89

10123.41

99.12