Gomal Zam Dam Construction Facts & Figures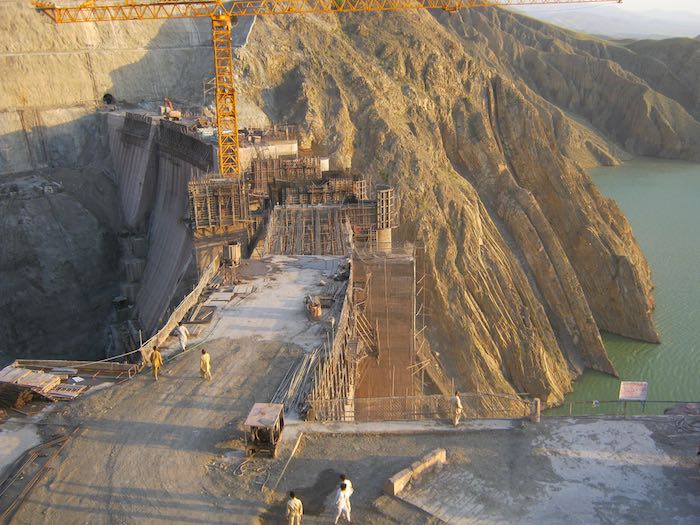 Introduction
Under "Vision 2025 Programme of WAPDA", the Government of Pakistan (GOP) approved the Project in August, 2001. PC-I was prepared by WAPDA in August, 2001 at an estimated cost of Rs.12,829 million (Rs. 4,964 million in Foreign Exchange) which was approved by executive Committee of the National Economic Council (ECNEC) on 31August, 2001.
Location
Gomal Zam Dam is located at Khajuri Kach on Gomal River in South Waziristan Agency, Federally Administered Tribal Area (FATA), on the West of Districts Tank and D.I.Khan of KPK. The areas to be irrigated fall in District Tank & Tehsil D.I.Khan Tank Road.From Tank, the Dam site is about 60 km (38 miles) to the West and is connected through a metal led road.
Objectives and Components
Primary objectives of the Project are:
Development of a lined canal irrigation system
Hydropower generation of about 17.4 MW
Control of flashy hill torrent floods.
Facts and Figures of Gomal Zam Dam:
LOCATION OF DAM Khajuri Katch on Gomal River
MAIN COMPONENTS

DAM

Height 436.4 Ft.
Length 758 Ft.
Type Roller Compacted Concrete Curved Gravity Dam

RESERVOIR

Gross Storage 1.140 MAF
Live Storage 0.892 MAF

Irrigation System

Length of Main Canal 60.5 Km
F.S Discharge 848 Cusecs
Length of Distributaries 205.8 km
Cultureable Command Area 163,086 Acres

Power House

Installed Capacity 17.4 MW

BARRAGE

Length of Barrage 620 ft.

PROJECT BENEFITS

Irrigated Agriculture Development 163,086 Aces
Power Generation 90.9 GWH
Flood Control

PROJECT COST

Approved PC-1 (2001) Rs. 12829 Million
Revised PC-1 Rs. 19936 Million

ENVIRONMENTAL IMPACT

Displacement of Population Nil
Flood Mitigation Major Positive Impact
Improvement of Standard of Living Major Positive Impact
Improvement of Socio-Economic Conditions Major Positive impact
Adverse Impact Insignificant

Present Status

Word In Progress

IMPLEMENTATION SCHEDULE

Under EPC/Turnkey Mode of Implementation August 2001 to December 2013 (expected).Work remained Suspended from October 2004 to May 2007
Detail Engineering Design (new Contract) 02 Years
Contract Period (EPC Contract Only) 03 Years and 120 Days
The project comprises the following major components:
A 133 meters (437 feet) high curved Gravity Type Roller Compacted Concrete (RCC) Dam at Khajuri Kach with a Gross Storage of 1.140 MAF and a Live Storage of 0.892 MAF.
Power house near the Dam site to generate 17.4 MW of hydro power.
An irrigation system to serve a cultivable command area of about 66,000 hectares (163,100 acres) in Districts of Tank and Dera Ismail Khan. It includes a Diversion Barrage near Kot Murtaza Main Canal about 60 km (37.5 miles) long and Distributaries about 200 km (125 miles) long.
Flood protection works of protect the infrastructure and irrigated areas from flooding caused by hill torrents to the North.
On farm development works confined to construction of watercourses for conveying the water from outlets to farm gate.
Construction of Gomal Zam dam
The project of being implemented by WAPDA. General Manager (Projects) North, WAPDA Peshawar is administering the Project. Project Director Gomal Zam Dam Project WAPDA is responsible for Project Implementation with the assistance of Management Consultants. Government of KPK is associated through its irrigation Department by establishment of an outfit to look after the irrigation and Drainage Component of the project.
In February 2002, WAPDA engaged Management Consultants (MC) comprising a joint Venture of four national and one international firm led by National Development Consultants (NDC) to advise/assist the Employer in Procurement and Implementation of the Project through an Engineer, Procure and Construct (EPC) Turnkey Contract. The Contract for implementation of the Project on Engineer Procure & Construct (EPC)/Turnkey basis was previously awarded by WAPDA on 17 June2002 to the Joint Venture Comprising China National Water Resources and Hydropower Engineering Corporation and Harbin Power Engineering company of the peoples Republic of China at a Contract Price of Rs. 4,388,833,600 (65% foreign exchange) under EPC/Turnkey Contract to GZD-01.
The Project was scheduled for completion within a period of 4 years and 76 days to be reckoned from 15 July 2002 the date of commencement. The Chinese Contractor commenced the work on time but after the unfortunate incident of kidnapping of chinese personnel on 09 October 2004 stopped the work forthwith. Efforts made by WAPDA to persuade the Chinese contractor to resume the work were not fruitful. Since the Contractor did not resume the work, the contract was eventually terminated by WAPDA on 14 April 2006. In pursuance of the decision of Economic Coordination Committee (ECC) of the Cabinet for award of Contract to Frontier Works Organization (FWO) on EPC/Turnkey basis, WAPDA awarded an EPC/Turnkey Contract No. GZD-02 to FWO on 09 March 2007 at a Contract Price of Rs. 10,400,633,666 (65% of foreign Sub Contractor's cost in foreign Exchange) for completion of the Project works as per scope of the previous Contractor.
M/s Sinohydro Corporation of China are the Sub Contractor for the Dam & Hydro power Component (Less Transmission Line) and M/s Tekser of Turkey are the Sub Contractor for the Irrigation and Flood Protection Component. The Works are scheduled for completion within a period of 03 years and 120 days to be reckoned from 11 June 2007, the notified date of commencement. The Project is thus expected for completion on 08 October 2010.
Physical & Financial Progress of Gomal Zam Dam
The previous EPC Contractor had achieved 13.3% physical progress of Permanent Works executed at site up to 09 October 2004. The completed works include Design Services (partly) 392 m long concrete lined Diversion Tunnel (6.8m inner dia) Dam abutments excavation (Partly) Foundations for Transmission Line some work on Main Canal and Distributaries. After re award of work FWO started mobilization and deploying their troops and FC troops for security purposes in the last week of May 2007 which continued during June and July 2007. The Chinese Sub Contractor of FWO also started mobilizing Chinese/Local personnel on Dam site in June 2007. After restoration of preparatory works the Contractor started work at site on 10 August 2007 which is in progress.
Overall Physical and Financial Progress ending June 2008
Physical Progress
Progress achieved under previous Contract No. GZD-01 = 13.3% Progress achieved under Contract No. GZD-02 = 7.4% Overall Progress ending reporting period = 20.7% This progress is against overall target of 34.5%.
The Shortfall is due to non-commencement of work on the Irrigation Component. The Contractor started mobilizing design personnel in February 2008. Financial Progress Financial Progress achieved under Contract No. GZD-01 = 6.8% (since terminated)
Financial Progress achieved under Contract No. GZD-02 = 14.7%
Allocation & Expenditure during the year 2008-2009
There is an allocation of Rs. 2000 Million for the financial Year 2008-09. Local Component = 2,000 Million Foreign Component = Nil Total = Rs. 2,000 Million
Overall Financial Progress since commencement
Total up date expenditure incurred on the Project since commencement is about Rs. 2.973 Million. The overall up-to date financial progress on the project is thus 23.17% of the PC-I Cost (i.e. Rs. 12,829 Millions).
Related Pages