Collection of Solid Wastes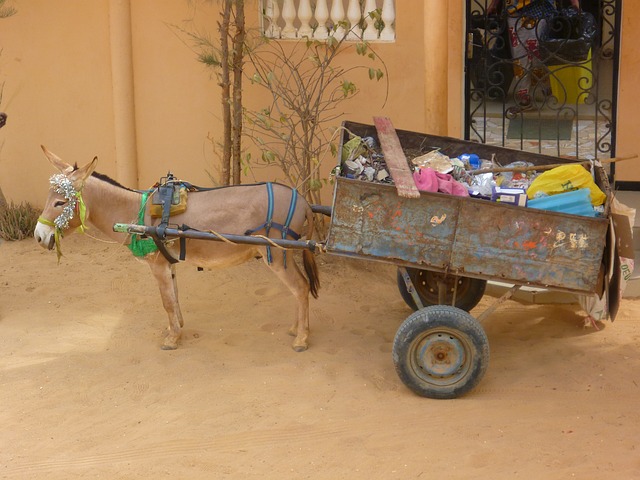 Collection of commingled waste and separated waste in an urban area is difficult and complex. The generation of residential and commercial-industrial solid waste takes place in every home, every apartment building and every commercial and industrial facility as well as in the streets, parks and even vacant areas. With the increase in developmental activities throughout the country, the collection system is becoming more and more complex. It is also due to the fact that there are different types of solid wastes which require different collection methods and other subtleties during collection. The need to collect solid waste is important for the health of the citizens, environmental sustainability, beauty of the area, and economic development.
The term "collection" includes not only the gathering or picking up of solid wastes from the various sources but also hauling of these wastes to the disposal site or transfer station and unloading there. While hauling and unloading are similar for most collection system, the collection or pickup of waste varies with facilities and locations. Home collection of solid wastes generally is done by a private collector or a local government-owned and financed operation.
Collection Services of Solid Wastes
People must understand that a good refuse-collection service requires citizen cooperation in the provision and use of proper containers in order to keep the community clean and essentially free of rats, flies, and other vermin. The collection agency should hold periodic activities involving citizens to run awareness campaigns.
Collection Frequency of Solid Waste
Climatic conditions and requirements of a locality as well as containers and costs determine the frequency of collection of solid wastes. In hot and humid climates, for example, solid wastes must be collected at least twice a week, as the decomposing solid wastes produce bad odor and leachate.And, as residential wastes usually contain food wastes and other putrescible (rotting) material, frequent collection is desirable for health and aesthetic reasons. Besides climates, the quality of solid waste containers on site also determines the collection frequency. For instance, while sealed or closed containers allow collection frequency up to three days, open and unsealed containers may require daily collection. Collection efficiency largely depends on the demography of the area (such as income groups, community, etc.), where collection takes place. Therefore, while deciding collection frequency, you must consider the following:
Cost, e.g., optimal collection frequency reduces the cost as it involves fewer trucks, employees and reduction in total route distance;
Storage space, e.g., less frequent collection may require more storage space in the locality;
Sanitation, e.g., frequent collection reduces concerns about health, safety and nuisance associated with stored refuse.
Storage Containers for Collection of Solid wastes
Proper container selection can save collection energy, increase the speed of collection and reduce crew size. Most importantly, containers should be functional for the amount and type of materials and collection vehicles used. Containers should also be durable, easy to handle and economical, as well as resistant to corrosion, weather and animals. In residential areas, where refuse is collected manually, standardized metal or plastic containers are typically required for waste storage. When mechanized collection systems are used, containers are specifically designed to fit the truck-mounted loading mechanisms. While evaluating residential waste containers, consider the following:
Efficiency, i.e., the containers should help maximize the overall collection efficiency.
Convenience, i.e., the containers must be easily manageable both for residents and collection crew.
Compatibility, i.e., the containers must be compatible with collection equipment.
Public health and safety, i.e., the containers should be securely covered and stored.
Ownership, i.e., the municipal ownership must guarantee compatibility with collection equipment.
Waste Collection Crew
The optimum crew size for a community depends on labor and equipment costs, collection methods and route characteristics. The size of the collection crew also depends on the size and type of collection vehicle used, space between the houses, waste generation rate and collection frequency. An effective collection crew size and proper workforce management can influence the productivity of the collection system. The crew size, in essence, can have a great effect on overall collection costs. However, with increase in collection costs, the trend in recent years is towards:
decrease in the frequency of collection;
increase in the dependence on residents to sort waste materials;
increase in the degree of automation used in collection.
Solid Waste Collection Vehicles
Almost all collection of solid wastes are based on collector and collection crew, which move through the collection service area with a vehicle for collecting the waste material. The collection vehicle selected must be appropriate to the terrain, type and density of waste generation points, the way it travels and type and kind of material. It also depends upon strength, stature and capability of the crew that will work with it. The collection vehicle may be small and simple (e.g., two-wheeled cart pulled by an individual) or large, complex and energy intensive (e.g., rear loading compactor truck). Another option may be the dump truck fitted with a hydraulic lifting mechanism. A description of some vehicle types is discussed below:
Small-Scale Collection and Muscle-Powered Vehicles
These are common vehicles used for collection of solid wastes in many countries and are generally used in rural hilly areas. As Figure 1 illustrates, these can be small rickshaws, carts or wagons pulled by people or animals, and are less expensive, easier to build and maintain compared to other vehicles.They are suitable for densely populated areas with narrow lanes, and squatter settlements, where there is relatively low volume of waste generated. Some drawbacks of these collection vehicles include limited travel range of the vehicles and weather exposure that affect humans and animals.
Non-Compactor Trucks
Non-compactor trucks are efficient and cost effective in small cities and in areas where wastes tend to be very dense and have little potential for compaction. Figure 2 illustrates a non-compactor truck. Non-compactor vehicle are generally used, when labor cost is high.
Compactor Truck
Compaction vehicles are more common these days, generally having capacities of 4 – 10 m3 due to limitations imposed by narrow roads. Although the capacity of a compaction vehicle, illustrated in Figure 3, is similar to that of a dump truck, the weight of solid wastes collected per trip is 2 to 2.5 times larger since the wastes are hydraulically compacted.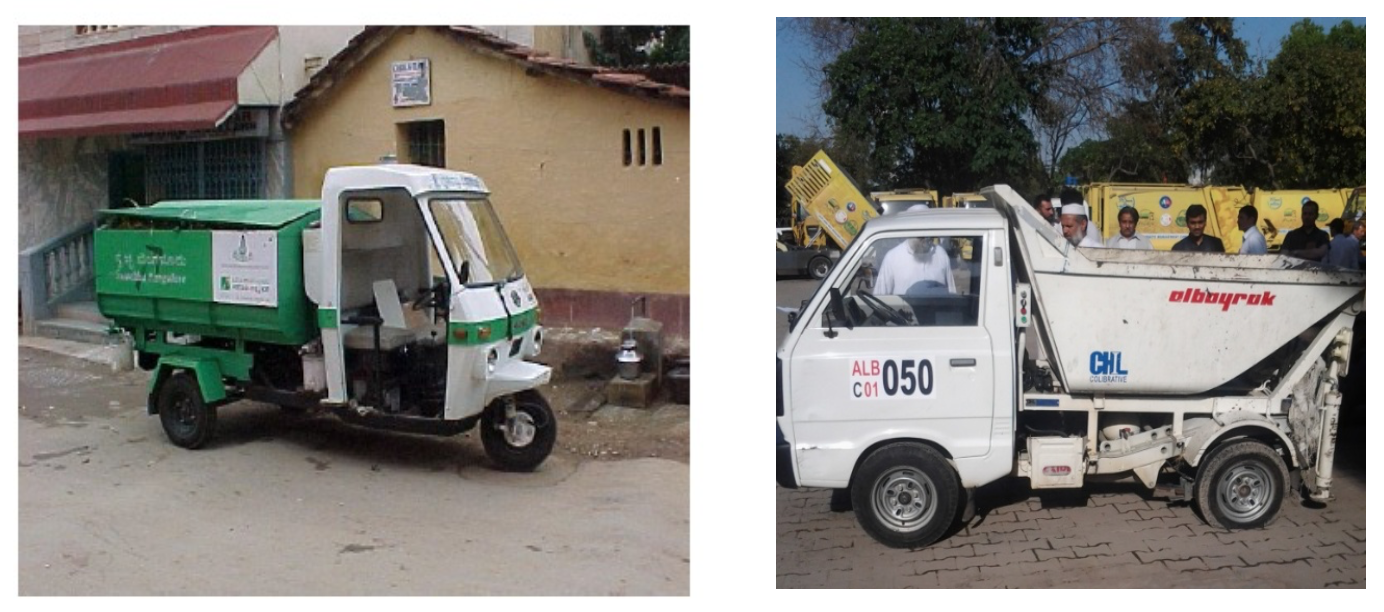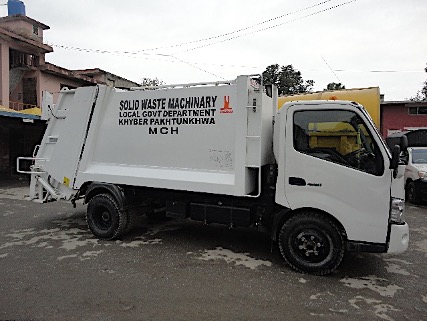 A compactor truck allows waste containers to be emptied into the vehicle from the rear, front or sides and inhibits vectors (of disease) from reaching the waste during collection of solid wastes and it's transport. It works poorly when waste stream is very dense, wet, collected materials are gritty or abrasive, or when the roads are dusty. The advantages of the compactor collection vehicle include the following:
containers are uniform, large, covered and relatively visually inoffensive.
waste is set out in containers so that the crew can pick them up quickly.
health risk to the collectors and odor on the streets are minimized.
waste is relatively inaccessible to the waste pickers.
Credits: GIZ - DEUTSCHE GESELLSCHAFT FÜR INTERNATIONALE ZUSAMMENARBEIT