Traffic Volume Study - Definition, Methods and Importance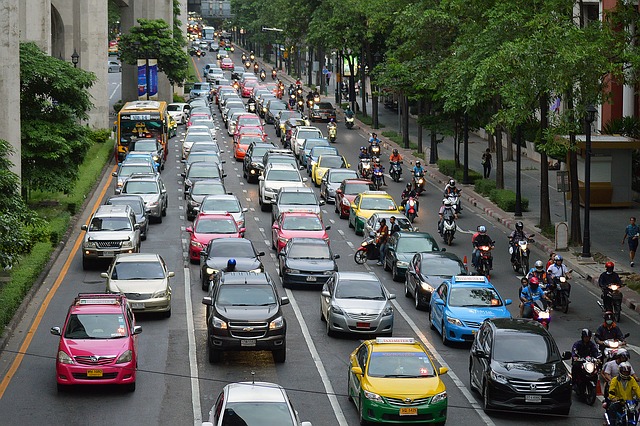 The term traffic volume study can be termed as traffic flow survey or simply the traffic survey. It is defined as the procedure to determine mainly volume of traffic moving on the roads at a particular section during a particular time.
Ways of conducting Traffic Survey / Methods of Traffic Volume Study
Following are the means of conducting traffic survey:
By Toll Plaza Ticketing
Registration offices
Statistical Approach
By Interviewing
By Check posts
Modern Global Positioning Systems
Below is the detailed theory of TVS
1. Toll Plaza Ticketing:
Toll Plazas are now a day constructed for the collection of revenue from the road users. This process is very efficient for collection of revenue because many people who are using the road have to pay that thus playing an important role in the establishment of economy. Toll Plaza may also be used for conducting the traffic survey. As every vehicle passing through it have to pay the tax and a receipt is handed over to the persons, thus in this way by calculating the no of receipts for a particular type of vehicle, it can be know that how much cars, buses, trucks and other vehicles have left the city and entered.
2. Registration Offices:
Every new vehicle has to be registered from the government when it is bought by its owner. Registration offices are located in every district level and the persons residing nearby are bound to register their vehicle from the prescribed office. For the purpose of conducting traffic survey, record from these offices can be taken for a particular year. Thus this record will enable us to determine the no of new vehicles entered in the roads.
However this method has some draw backs because when an old vehicle sold by a person, after that the sold vehicle, which was registered in the particular district, may move from that district to a new place.
3. Statistical Approach:
This method is applicable when the records for the past countries are maintained effectively and efficiently. Thus by using statistical approaches of approximation may be used to predict future predictions about traffic flow on the road.
4. By Interviewing:
Interview is a best method to understand daily routine of a person. Traffic survey interview requires the knowledge about daily traffic density at different places during different times of a day. This can be conducted by a group of persons standing at the different entrance points of a city and inquiring one by one about their routine so that a proper data about the traffic density at a particular point could be maintained and by using this data, better management techniques regarding traffic flow could be utilized by respective departments.
This method is quit cumbersome because many of the transporters will not stop to persons for even a second.
5. Check Posts:
Check posts are provided at the entrance and exit points of a city or a province. The primary purpose of these is to maintain the legal entry and exit so that thefts & other criminal cases could be avoided as far as possible. Check posts can also be utilized to conducted traffic survey. If the proper record regarding the entrance and exit of vehicles is maintained than it is very easy to determine the no of vehicles entering and leaving the city daily.
In Pakistan, cities like Rawalpindi and Islamabad are now-a-day enjoying some controlled traffic blockage because the entry of heavy vehicles are not allowed. Thus in this way; traffic problems can be solved.
6. Global Positioning System:
GPS, formally known as the Navstar Global Positioning System, was initiated in 1973 to aid navigation systems. By creating a system that overcame the limitations of many existing navigation systems, GPS became attractive to a broad spectrum of users. GPS has been successful in navigation applications because GPS is accessible using small, inexpensive equipment. GPS has also played role in many new applications like highway design etc.
This technique has got a new utilization now a day in traffic surveys in major countries like USA, China and other developed country. This technique is equipped with a built in chips and navigation control room. The chip is fitted in the vehicle and that is always in record present in the control room. Thus record about exact no of vehicles even at a particular road in the city is available at every instant. This is also called "Automated Surveillance Technique"
Importance of Traffic Volume Study:
Traffic survey is very important to be performed because it can:
Increase the efficiency and life of roads
Reduces traffic volume at a particular section
Provide better means for development of infrastructures
Provide better means to utilize other roads in case of special events in the city
Provide estimate of no vehicles against no of persons
Thus traffic survey is very important for development of better infrastructure to the cities and finally to the country. Click on the PDF Icon above to download traffic volume study as pdf.